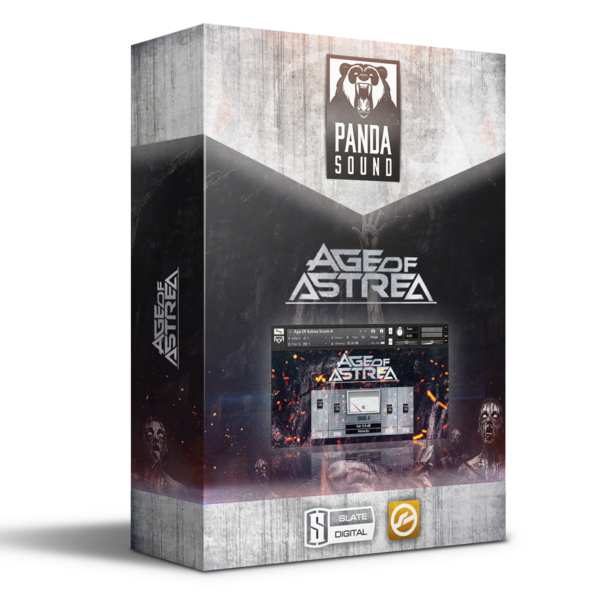 AGE OF ASTREA DRUMS
Age Of Astrea Drums is fully processed, multi-velocity drum samples as heard on the record "The Agony"! Perfect for deathcore/metalcore mixes!
Product Description
Age Of Astrea Drums Features

Comes with 2 Snares (Agressive and Blastbeat)
Kontakt Humanizing Script
Kontakt Transient Shaper Script for Kick
Kontakt Multi-Mic Script with Close Mic, Reverb and Room Samples
Perfect For Deathcore and Metalcore Mixes!
Kit Info
Kick-Toms,

Tama

 Imperialstar Set
Snare-A, Ludwig Black Beauty 6.5×14
Snare-B, Pearl Piccolo Steel Snare 13×3
Hi-Hat, Zildjian A Custom 14
Crash 17, Sabian AAX X-plosion 17
Crash 18, Sabian AAX X-plosion 18
Crash 19, Zildjian A Custom Projection 19
China, Meinl Classics 18
Ride, Paiste Signature Reflector Bell 22
Recording info
Recorded with Empirical Labs Distressor, Manley Core Channel Strip, Focusrite OctoPre, RME: Fireface UC
Recorded at 44.1kHz 24 bit in .wav format
Fully-mixed and ready for production
All Samples Are "Panned" From The Drummer's Perspective
Mic's used
Kick, AKG D112, Sennheiser e602 II
Snare, Shure SM57, Sennheiser MD441U
Toms, Senheiser MD421
Room, Audio Technica AT4040
Audio Example
KONTAKT INSTRUMENT VIEW
Includes
Custom Kontakt Instruments (.nki):
Slate Trigger Instruments (.tci):
WAV files
User Manual
Requirements
An Intel or AMD computer and compatible DAW and at least one of the following:
Kontakt 5.4.3 or greater.